PARENTS' CONFERENCE 2022-23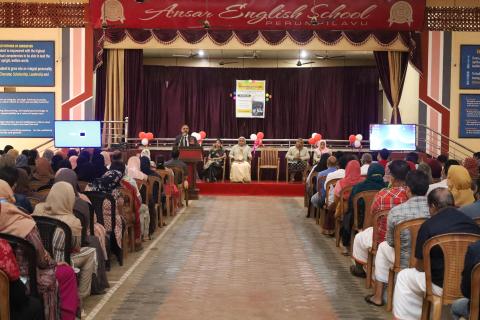 PARENTS' CONFERENCE 2022-23
 "Children acquire and construct knowledge happily in a happy campus", said Mr. Shihabudheen Pulath, the Principal of Ansar English School, when he addressed the parents during the Parents' Conference 2022-23
Perumpilavu: Aiming to achieve the notion "Happy Learning in a Happy Campus", Parents' Conferences were held in Ansar English School Perumpilavu from 23rd to 27th May. Different sessions were arranged for parents to ensure maximum participation and effective communication. Presentations done by teachers were helpful in familiarizing the parents with the updates in the school strategies and assessment structure. Mr. Shihabudeen Pulath, the Principal, explained the new strategies of happy learning introduced in this academic year and also clarified that, the challenges of new academic era can be resolved by being a proactive teacher. Vice Principal, Mrs. Shyny Hamza spoke about the policies of the school and the importance of parental involvement in school activities.
Presentations by some of our parents on relevant topics enhanced the effectiveness of the program. Mrs. Selma Sharafudheen, Dr. Shamnas, Mr. Shameem & Mrs. Shabeena Aboobacker were some of them. The CEO-EI, Dr. Najeeb Mohammad and PTC vice chairperson Mrs Naseema also addressed the parents.
Parents actively participated in the open discussions and shared their concerns and suggestions. Principal, Mr. Shihabudheen Pulath along with Vice Principal, Mrs. Shyny Hamza answered the queries of parents.
The Junior Principals of various sections, Mrs. Shabitha [LP], Mrs. Nimmi [Primary], Mrs. Sajidha Razak [UP], and Section Head of Senior Secondary Ms. Ravya, welcomed the parents in different sessions. The conferences were made delightful by the performances of some of our students.