25 July 2022
AISSCE 2021-22 Result :Ansar Marks the History Again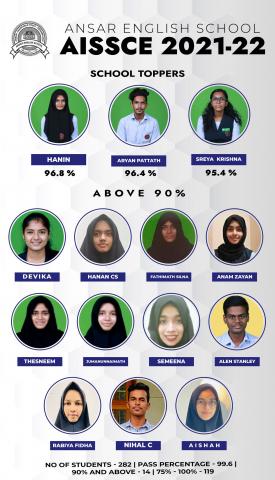 AISSCE 2021-22 :Ansar Marks the History Again
Perumpilavu [23 July 2022]: Ansar English School maintained top results in Senior Secondary examination with a pass percentage of 99.6.
282 students appeared for the exam in senior secondary. Hanin topped the school with 96.8 percent marks. Aryan Pattath Suresh Babu (96.4) and Shreya Krishna TS (95.4) bagged the second and third positions respectively. 14 students scored above 90 percent marks. A total of 119 candidates scored above 75 percent and 150 scored above 60 percent. Hanin secured 100 marks in Arabic and Aryan Pattath secured 100 marks in Business Studies.
The school management congratulated the students and teachers who worked for this well balanced result beyond all hurdles caused by the global pandemic.