23 June 2022
Talent Day by Class 8 C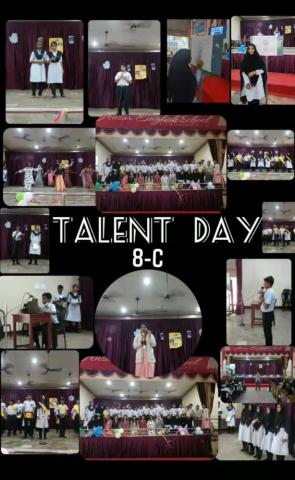 U P Section  ( Talent Day on Wednesday 22 June  - Class 8 C )
" All of us do not have equal talent. But, all of us have equal opportunity to develop our talents". 
                              As a part of Year of Talents 2022- 23 , Class 8 C conducted their Talent day programme on Wednesday 22 June at the school auditorium .All the students from 7 and 8 were gathered at the auditorium on the time.  The programme was based on the theme " Reading maketh a full man". The programme started with a warm up excercise and students exhibited their talents through different programmes such as skit, group dance and speech. The caricature prepared by  Niya Basheer  was  mind blowing.  Class teacher of 8 C , Ms. Deeshma addressed students and delivered a special message to them . Students had a great time with school principal Mr. Shihabudheen Pullath and he appreciated and motivated the students and class teacher.  Junior Principal of U.P Section Mrs. Sajitha Razak addressed students with her valuable and inspiring words.